2017 NCAA Football National Championship Odds Update
Written by: Brad This entry was posted on Friday, August 4th, 2017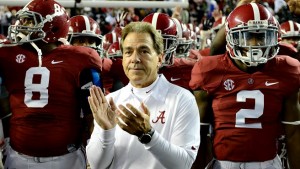 The long wait for the 2017 NCAA football season is almost over with the new year set to start in less than a month. The usual suspects are highly favored to reach the College Football Playoff and win the national championship, but college football has a habit of pulling off a surprise when you least expect it.
Nevertheless, let's check out the big favorites for the national title and see whether their odds are justified. And if you're in search of a viable sportsbook site to bet on these college football contenders, check out our sportsbook review section for some tried and tested online sportsbooks.
2017 NCAA College Football Odds Update
Alabama (+350)
It doesn't seem to matter how many players Alabama loses to the NFL, Nick Saban still manages to find new four- and five-star recruits to replace them every single year. The Crimson Tide faithful were left crying a river after their shock defeat to Clemson in last year's national championship game, but with another stacked team on hand, they're as good a bet as any to be back in the playoff in search for that title.
Ohio State (+450)
Ohio State is in the same boat as Bama in terms of their ability to continuously reload with NFL-caliber talent on a year-on-year basis. But Urban Meyer will have what Saban won't, which is a senior quarterback in JT Barrett. With the Buckeyes boasting comparable talent to the Tide in many positions, Barrett's experience could just give them the edge they need to win another playoff.
USC (+750)
The Trojans have a new superstar quarterback on their hands in Sam Darnold. The redhead lit up the Pac-12 in his redshirt freshman season last year, and capped off a remarkable comeback against Penn State to win the Rose Bowl. That amazing performance only fueled the hype for his Heisman chances as well as the Trojans' return to prominence. Whether he or the rest of this USC team can finally live up to the hype and hang with Bama or OSU remains to be seen though.
List of Select Team Odds
| Team | Odds | Team | Odds |
| --- | --- | --- | --- |
| Alabama | +350 | Ohio State | +450 |
| USC | +750 | Florida State | +750 |
| Oklahoma | +1,600 | LSU | +1,800 |
| Penn State | +1,800 | Michigan | +2,000 |
| Auburn | +2,000 | Washington | +2,200 |