Sportsbooks odds for first NFL coach to get fired in 2017-18 season
Written by: Rex This entry was posted on Friday, August 25th, 2017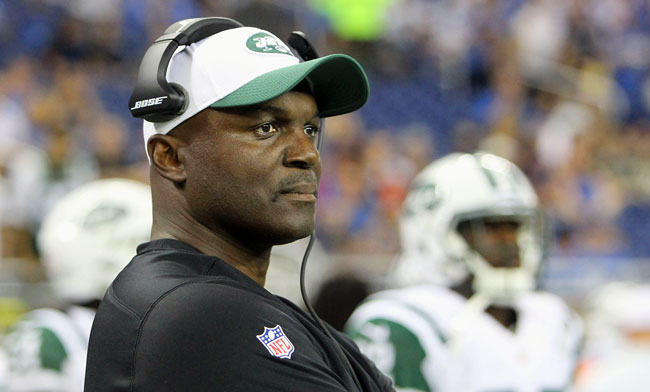 The temperatures of the coaches' seats in the NFL differ. It's hard to imagine Bill Belichick getting the pink slip anytime soon, considering the amount of success the New England Patriots have achieved under his mentorship. Guys like Belichick have long leashes from the management. Their teams could lose a game or two and yet still feel tremendous job security.
Todd Bowles isn't anywhere close to having the same luxury of patience from his team's management, however, simply because Bowles is not Belichick and the New York Jets are not the New England Patriots. The Jets suck, and will be coming into the new season with low expectations and a high potential to be a disaster. Bowles might not be the one to blame if the Jets do become a full-blown catastrophe, but the front office will have to find a scapegoat, which in most instances, is always the coach.  Bowles is pegged by most sportsbooks as the favorite to be the first coach to get sacked this season with odds hovering around +550.
Another coach in the hot seat is Hue Jackson of the Cleveland Browns. Since 2007, the Browns have had six head coaching changes. The franchise has been unable to find stability with the only consistent thing they've accomplished since is being everybody's favorite doormat in the league. Cleveland has a six-season streak of last-place finishes in the AFC North, and it doesn't look like they're close to being that much better after they put up a pathetic 1-15 record in 2016. The Browns have a ton of problem but as what they've shown us in a lot of instances, they seem to think that the solution to their troubles is by changing the coach. Well, that's just the Browns for you. Jackson is +525 to be the first coach to go.
John Fox, Jim Caldwell, Chuck Pagano, and Marvin Lewis are the other coaches you should also be keeping an eye on when looking to bet on this prop.
Ready to bet? Create a betting account now. You can choose one from any of the sportsbooks we've listed on our sportsbook reviews section.