Who Will Win the 2017-18 English Premier League – Sportsbooks Make Their Early Picks
Written by: Brad This entry was posted on Friday, July 21st, 2017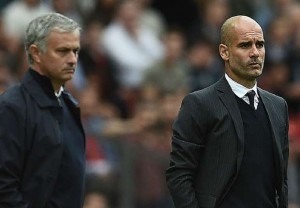 The English Premier League is hands down the most competitive major league in Europe, and this season will be no different. As many as six teams have a realistic shot at winning the title, which will make Chelsea's bid to become the first team to successfully defend the title since Manchester United in 2009 all the more challenging.
The two Manchester clubs currently have pole position in terms of the odds, with Chelsea, Tottenham, Liverpool, and Arsenal all not that far behind. Let's check out their individual chances of taking home the trophy below. And if you're still in search of a viable sportsbook site for your betting thrills, head on over to our very own sportsbook review section for some tried and tested online bookies.
2017-18 English Premier League Odds Update
Manchester City (+187)
Manager Pep Guardiola has never gone more than one season without winning the league, and with such a talented squad at his disposal, don't expect him to start now. Pep has finally picked up some youthful full-backs, which should only help an attack that was arguably the most fearsome in the entire league.
Manchester United (+333)
Jose Mourinho should also not be counted out after one of the most disappointing campaigns of his storied managerial career. The Portuguese should have a better grasp of his deep and talented United squad, particularly what to do with superstar midfielder Paul Pogba, who was inconsistent in his first season back at United.
Chelsea (+350)
As mentioned earlier, it's been some time since anyone has won back-to-back in the Premier League, and Chelsea will soon find out how hard that will be. The Blues will have Champions League football to contend with once again, which could stretch their squad to its limit due to the physically demanding system Antonio Conte likes to play.
Tottenham (+900)
Tottenham have been fairly quiet in the transfer market this summer, and will likely be relying on more or less the same group of players that finished second last season and third the year before. Spurs should be the most closely-knit unit among the top six, though, and that continuity and familiarity should give them enough of an edge to remain top title contenders next season.
Liverpool (+1,100)
Liverpool are in a similar boat as Tottenham in terms of lack of transfer activity. Aside from Mohamed Salah, they will more or less have the same squad that finished fourth last year. It remains to be seen whether Jurgen Klopp's physically taxing style of play can actually see the Reds become legit title contenders, especially with their squad lacking in terrific depth.
Arsenal (+1,100)
Arsene Wenger is back for another season at the Emirates, and he's going to try out the back-three formation which he finished last season with. Keeping star striker Alexis Sanchez despite constant transfer speculation will obviously do their title chances a lot of good, but it's still doubtful whether the Gunners have enough weapons to make enough of a title challenge.
Complete List of Odds
| Team | Odds | Team | Odds |
| --- | --- | --- | --- |
| Manchester City | +187 | Manchester United | +333 |
| Chelsea | +350 | Tottenham | +900 |
| Liverpool | +1,100 | Arsenal | +1,100 |
| Everton | +8,000 | Southampton | +25,000 |
| Leicester City | +20,000 | West Ham United | +35,000 |
| Newcastle United | +50,000 | Stoke | +50,000 |
| Crystal Palace | +50,000 | West Brom | +50,000 |
| Swansea | +75,000 | Bournemouth | +75,000 |
| Brighton | +150,000 | Burnley | +100,000 |
| Watford | +100,000 | Huddersfield | +200,000 |