2016 AFC North Division Odds to Win Update
Written by: Mark This entry was posted on Friday, August 26th, 2016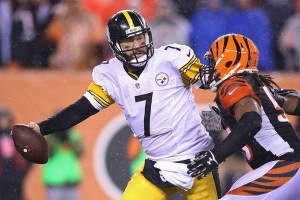 Year-in and year-out, the AFC North has been a hotbed for some of the most thrilling and hotly-contested matchups in the NFL. This 2016 regular season should be no different, as the Steelers, Bengals and Ravens all have legitimate shots at becoming division champs once more. The Browns shouldn't be written-off that easily this time around, either.
Let's take a closer look below at how this ever-so volatile division is shaping up this year. And if you're still in search of a viable sportsbook site for your wagering needs, check out our very own sportsbook review section for some tried and tested recommendations.
2016 AFC North Division Odds to Win Update
Pittsburgh Steelers (+120)
Despite not having electric wide receiver Martavis Bryant for the entire season (substance abuse) and star running back Le'Veon Bell for the first three games (missed drug test), the Pittsburgh Steelers are still the oddsmakers' top choice to become AFC North champions. For as long as the lethal combination of Ben Roethlisberger and Antonio Brown is at full-strength, it's really hard to argue against Pittsburgh's potent offense, which ranked third in the NFL last season in offensive yardage and fourth in points scored, as the team's recipe for success in hopes of a third division title in six years.
Cincinnati Bengals (+175)
As the defending division champs, the Cincinnati Bengals have as much claim to the AFC North crown this season as the Steelers before them, as what they're +175 odds to win the division would suggest. The Bengals have four-straight regular seasons with 10 or more wins and two division titles to show for, proving that the pairing of head coach Marvin Lewis and Andy Dalton hasn't lost any of its magic at all. Plus, Cincy boasts a lock-down defense too, one that limited their opposition to just an average of 17.4 points per contest – second in the NFL.
As a model of regular-season consistency and tenacity, the Bengals make for a solid pick indeed as this season's Kings of the AFC North.
Baltimore Ravens (+300)
Finishing third in the division for three-consecutive seasons does not look good for the Baltimore Ravens' 2016 forecast. Last year's disappointing 5-11 record should've been the last straw off head coach John Harbaugh's tenure in the Capital. But injuries to the Ravens' three main offensive starters, Joe Flacco, Terrell Suggs and Justin Forsett, are sound enough reasons for him to win back the team's trust this renewed season.
Let's not forget that the Ravens are just four years removed from their Super Bowl-winning run and that the core of key players from that team is still pretty much intact. And with a rather impressive haul at the NFL draft earlier this April, Baltimore will certainly fight tooth-and-nail this season for a shot to regain its former glory.
Cleveland Browns (+1,100)
It's been nine years since the Cleveland Browns had a winning season and now five-straight years wherein they finished at the basement of the AFC North. So in comes another major upheaval of the team's roster, but this time around, things might actually be looking up for this often-ridiculed franchise.
New head coach Hue Jackson appears to be the most competent leader that the Browns have had since forever, and underachievers Robert Griffin III and Terelle Pryor have shown flashes of brilliance in the preseason as well. As such, banking on Cleveland to win the division this season is still a risky proposition, but at least their odds of doing so aren't as bleak as seasons past.