Betting Tips for German Bundesliga – Sportsbooks Pick 2016-17 Title Favorites
Written by: sbnadmin This entry was posted on Friday, August 5th, 2016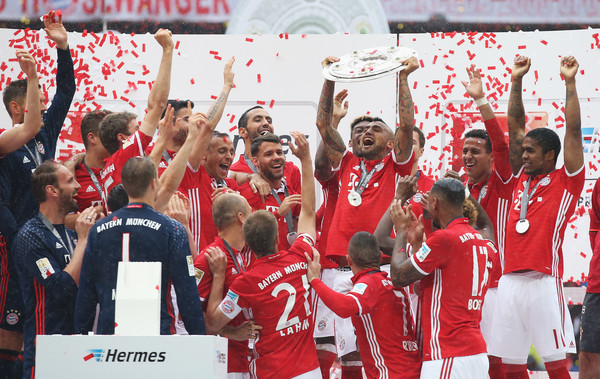 The long wait is finally over! German soccer action returns with a bang this month with the start of the Bundesliga. All eyes will definitely be on defending champions Bayern Munich as they look to capture their sixth consecutive league title.
In fact, top sportsbooks such as TopBet and Sports Interaction have listed Bayern as the favorites to once again capture the crown this campaign. Read on below to find out more about the favorites for this season's German Bundesliga. While you're at it, you can browse through our sportsbook review section to find out which sportsbooks provide the best soccer betting opportunities.
SPORTSBOOKS LIST 2016-2017 GERMAN BUNDESLIGA TITLE FAVORITES
Bayern Munich
Sportsbooks seem to be in agreement that it would take something catastrophic for Bayern Munich not to retain their Bundesliga title this season. The Bavarian outfit was simply unstoppable in last year's competition, winning the German league by a whopping 10 points. It was Bayern's fifth consecutive championship in the German league and their 26th overall.
If that wasn't enough, the German giants decided to further strengthen their title-winning squad this season. Bayern signed Portuguese midfielder Renato Sanches from Benfica for £28 million. The 18-year-old star was Portugal's hero in their memorable European Championship triumph in France. He will be mentored by veteran tactician Carlo Ancelotti who signed a lucrative three-year deal with Bayern this past summer. Bayern Munich are pegged at -800 to win the Bundesliga this season.
Borussia Dortmund
By virtue of their runner-up finish last season, Borussia Dortmund have been installed as second-favorites at +700 to lift the Bundesliga trophy this year. Leading the way for Dortmund last season was Pierre-Emerick Aubameyang. The 27-year-old forward lit up the Bundesliga last season, scoring a whopping 25 goals for the German club. He was the league's second-top scorer last season behind Bayern's Robert Lewandowski. To further boost their title credentials this year, Dortmund have decided to sign German stars Mario Gotze and Andre Schurrle. They will help strengthen a Dortmund attack that scored a league-best 82 goals in the German Bundesliga last season.
Bayer Leverkusen
Bayer Leverkusen will look to bounce back strongly this year after a disappointing finish in the league last season. They finished in third place in the Bundesliga last campaign, scoring a measly 60 points. That was still enough though for them to nab a Champions League place this year. For Leverkusen to maintain a solid title charge this season, they will need Javier Hernandez to continue his excellent play. The former Manchester United striker started in all but three of his 28 Bundesliga appearances and scored 17 goals. Leverkusen are priced at +3,300 to win the league this season.
Create an account now with our favorite German Bundesliga Futures sportsbook and take a punt at who you think will win the 2015/16 Bundesliga title.