UFC 215: Nunes vs Shevchenko 2 Odds Update
Written by: Mark This entry was posted on Friday, September 8th, 2017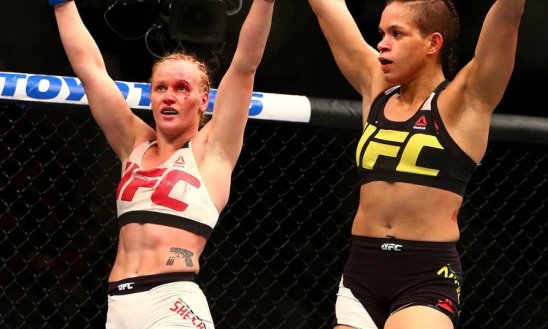 After getting cancelled on the 11th hour last July 8th due to defending champion Amanda Nunes's questionable health, the much-hyped rematch (Nunes won the first bout) finally happening – this time it's quite certain that no issues will arise.
There have been a number of highly-anticipated fights in UFC's women's division over the years, but if you are looking for a good 'ol brawl on a championship level, this matchup is, WITHOUT A DOUBT, the one to see.
On one side, you have Nunes (14-4), an aggressive striker that is relentless in showcasing her boxing prowess in the octagon. The champ is on a five-fight winning streak, four of which were stoppages (two submissions and TKOs). The most recent victory, as you might've remembered, was her absolute demolition of MMA superstar Ronda Rousey, who she TKO'd in 48 seconds.
The challenger, Valentina Shevchenko (14-4), is a crowd favorite whenever she's on a card, thanks to being tough as nails and having an all-around fighting style that also favors her patience and counter-attacking approach. She, too, is on a roll. Following her debatable loss to Nunes in their March 2016 fight (UFC 196), she has convincingly dominated two-straight foes – the former UFC champion Holly Holm and the first women's Ultimate Fighter winner, Julianna Pena.
BELOW ARE ODDS FROM SPORTSBOOKS AROUND THE NET:
TopBet:
Amanda Nunes (+105) | Valentina Shevchenko (-135)
BetOnline:
Amanda Nunes (+105) | Valentina Shevchenko (-125)
Intertops:
Amanda Nunes (-110) | Valentina Shevchenko (-120)
SportsBetting:
Amanda Nunes (+105) | Valentina Shevchenko (-125)
Bovada:
Amanda Nunes (-110) | Valentina Shevchenko (-120)
**PLEASE BE REMINDED THAT THE ODDS ARE SUBJECT TO CHANGE