Odds for most passing yards in 2016-17 NFL season released
Written by: Rex This entry was posted on Thursday, August 17th, 2017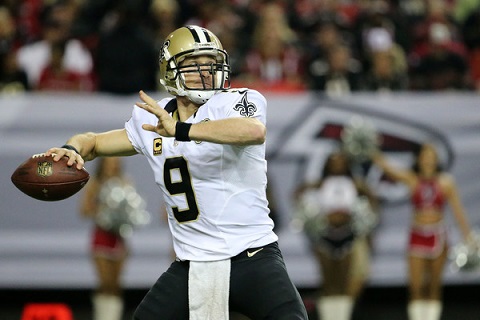 Gunslingers. That's what the following quarterbacks we are about to discuss are also called. Despite the proliferation of dual-threat quarterbacks in the sport today, those who could stay in the pocket and locate with pinpoint accuracy their receivers downfield remain as the better option for many teams in building a championship caliber squads. Below are three quarterbacks who are among the favorites to get the most yards via air this coming season.
Drew Brees (+400)
The New Orleans Saints sucked last season. They finished third in the NFC South with a 7-9 record and paraded one of the worst defenses in recent memory. But with Brees at the helm of hte offense, Saints fans still had reason to buy those expensive tickets and fill up seats at Mercedes-Benz Superdome. Brees led the NFL last season in passing yards with 5,208, the only one to go past the 5,000 mark. Brandin Cooks is gone but Brees is Brees and he's going to be just fine.
Tom Brady (+450)
Speaking of Cooks, he's now part of Brady's collection of toys in New England. The addition of Cooks to the receiving corps of the New England Patriots provides another reason why Brady is going to be just as effective even at age 40. Brady played in just 12 games last season due to the four-game suspension laid on him by the NFL but that didn't stop him from lighting up the air for 3,554 yards and 28 touchdowns.
Matt Ryan (+900)
Those "28-3" jokes will not take a rest but Ryan could care less about it so long as he leads the Falcons back to the Super Bowl again — and actually winning it. Ryan finished just second behind Brees last season in total passing yards with 4,994 yards. It's going to help Ryan big time that Julio Jones is still in Atlanta. The Falcons' offensive line that did well protecting him last season is back to do the same so it's fine to keep your hopes up on Ryan's prospect of topping the passing category this season.
Ready to bet? Create a betting account now. You can choose one from any of the sportsbooks we've listed on our sportsbook reviews section.