Sportsbooks with Best Parlay Promotions and Offers
Written by: Brad This entry was posted on Saturday, March 5th, 2016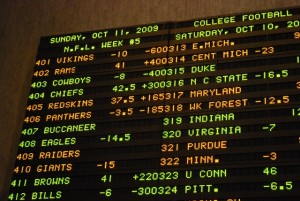 Everyone loves a good parlay. They're the easiest way to quickly earn big time bucks in sports betting. For anyone who doesn't know, parlay betting entails wagering on two or more events, both of which have to be correct in order to win. The more events you place in a single parlay, the bigger the payout.
Of course, the degree of difficulty is much higher than a single straight bet, but it really wouldn't be gambling if it was easy, right?
Not only do parlay bets bring the most bang for one's buck, they also add a bit of excitement and variety to betting, especially when you can wager on several different games of several different sports – all at the same time.
So, where can players go to enjoy some parlay goodness? Let's take a look at these three sportsbooks, which have some of the best parlay offerings around.
TOP 3 SPORTSBOOKS WITH BEST PARLAY PROMOTIONS
GTBets
GTBets offers players with some interesting special wagering options. One such option is the progressive parlay. Like regular parlays, progressive parlays can allow players to bet on several different events. But unlike a regular parlay, it will still pay out even if some of the individual bets lose.
Meanwhile, they also offer multi-league parlays and teasers on seemingly every sport under the sun – boxing, cricket, rugby, soccer, basketball, football, etc.
Sportsbook.ag
Sportsbook.ag has also dedicated a convenient parlay card section for players to form all sports, basketball, soccer and football parlay cards. Players can also include prop bets available for specific games into their parlays. However, their all sports parlay card has a pretty limited selection, so it's probably not the choice for the more diverse sports fan.
TopBet
Last but not least, TopBet's sportsbook offers its players with three special parlay offers: the parlay challenge, parlay card and teaser challenge. The parlay card is similar to what the first two sportsbooks also offer, which is a multi-sport parlay card. Players can include sports like basketball, football, baseball, and soccer.
The parlay and teaser challenges, which are offered for NBA, NCAA basketball, NFL and NCAA football games, are much more unique, though. Players first have to select the price of the parlay/teaser card they will play, and then correctly pick the five preselected bets. The higher the price – which range from $5 to $20 for parlays and $10 to $50 for teasers – the higher the payout. Oh, and the best part? These parlays have a payout 20 percent more than regular parlays! All in all, TopBet is our #1 pick for special parlay offers, so register with TopBet today and start playing.
So, what are you waiting for? Go on ahead and visit those sportsbooks now to take advantage of their terrific parlay offerings.